WE'RE A USA TRIATHLON CERTIFIED PERFORMANCE CENTER
PASADENA, TEXAS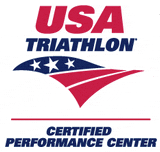 In 2013, USA Triathlon recognized Texas-based Third Coast Training as one of the nation's USA Triathlon Certified Performance Centers.In order to be designated one of the top multisport facilities in the nation, Third Coast Training met a number of rigorous requirements put forth by USA Triathlon.
Third Coast Training offers high-quality facilities and services to its members, including a human performance lab, massage therapy, and heated indoor endless pool. Additionally, this performance center allows members to work with USA Triathlon Certified Coaches, as well as consultations for physical therapy, nutrition and sports psychology.
"We're excited to be partnered with USA Triathlon as their newest Certified Performance Center," said Johnny Shelby, owner of Third Coast Training. "Each year we've seen the endurance community grow and we enjoy helping newcomers and keeping the veterans in race ready fitness. It's a fun sport and we look forward to bringing some new faces to the races."
ABOUT USA TRIATHLON
Founded in 1982, USA Triathlon is proud to serve as the National Governing Body for triathlon – the fastest growing sport in the U.S. Olympic Movement – as well as duathlon, aquathlon, aquabike, winter triathlon, off-road triathlon and paratriathlon in the United States. USA Triathlon sanctions more than 4,300 races and connects with more than 550,000 members each year, making it the largest multisport organization in the world. In addition to its work with athletes, coaches, and race directors on the grassroots level, USA Triathlon provides leadership and support to elite athletes competing at international events, including International Triathlon Union (ITU) World Championships, Pan American Games and the Summer Olympic Games. USA Triathlon is a proud member of the ITU and the United States Olympic Committee (USOC).